GCH Saudades' Funny In Farsi
Born April 19, 2013
Eng Sh Ch Rainesgift Hucklebery Finn to Lizzlog JW x CH Starworkers Ooh La La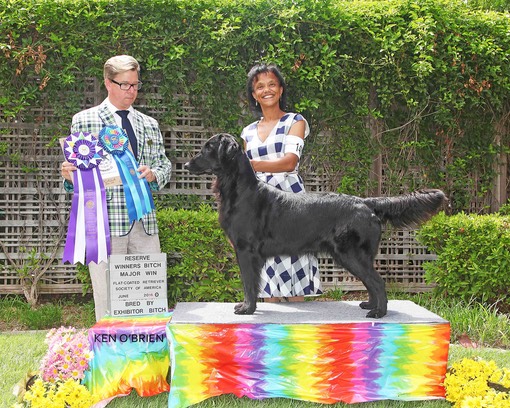 The overall pick of the F litter and the perfect fit for our home, Falafel was chosen by Ellen the day she was born.  She is everything we were looking for from this combination.  Falafel finished her Championship in style by going Reserve Winner's Bitch at the 2016 National from the Bred By Exhibitor earning a 3-point major and  two days later won a 5-point major from BBE at the GWFCRC Supported Entry at Woofstock, June 2016 to finish the title and earn our kennel yet another Bred By Exhibitor medallion!  
She also helped her mother, Lola, win the Brood Bitch class at the National.
She has produced two litters including 4 Champions, and all of her offspring are sound and healthy to date.  She brightens our lives each and every day.  
We are grateful to Lizzlog and Rainesgift Kennels in the UK, who allowed us to use Finn.

Bred By Exhibitor 1st place comments:
"The first bitch is stunning, I mean stunning.  Bone, body, head, elegance and everything I want the breed to be."
Reserve Winners Bitch comments:
"Also lovely in all aspects.  She is solid and strong.  She is full of breed quality and elements of the breed standard.  She is well made in front with a good fore chest. and excellent rear angulation with wide thighs which are one of the most common faults of the entry.  Her head is ideal and I loved her character.  Her tail is also excellent.  
She was deep and robust but feminine.  She is perfectly balanced."
-Douglas A Johnson, Clussex Kennels, FCRSA 2016 Judge