GCH Starworkers Dealers Choice JH OA AXJ x CH Starworkers Ooh La La
Casino x Lola
Born June 30, 2011
6 boys, 4 girls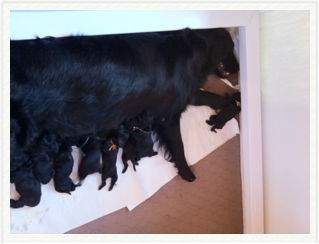 We are so excited to welcome these puppies.  I have waited since 2004 to get this pedigree which is a line breeding on the two lovely Moonstruck girls:  
Multi-CH WW-02 M. Jelly Baby & M. Jammy Cracker.  
They have lived up to every bit of the promise of their pedigree:  a class winner at 11 mos old at the National Specialty; and a Best Puppy In Show! The only two intact animals earned their Championships with limited showing right after turning 3, both by winning Best of Breed over Champions!   We are making special plans for them both in our breeding program. 
Introducing …
Saudades' Danish Blue aka Mickey (6/30/11-9/25/19)
Saudades' Cheese Danish aka Nero
Saudades' Danish Bella Lola aka Bella
Saudades' Double Trouble in Denmark aka Morgan
GCH Saudades' Daily News of Denmark aka Dax
Saudades' Duchess of Denmark with Grace aka Gracie
Saudades' Delightfully Danish aka Lily
Saudades' Windmills of Denmark aka Zephyr
Saudades' Danish Havarti aka Cooper
CH Saudades' Dream On In Denmark aka Lymon Bean
D Litter Gallery