Rainesgift Wax Lyrical x CH Don's En Fortjusande Fröken
Omar x Rosa
Born December 20, 2020
8 boys, 5 girls
Pedigree 
Democracy Litter Gallery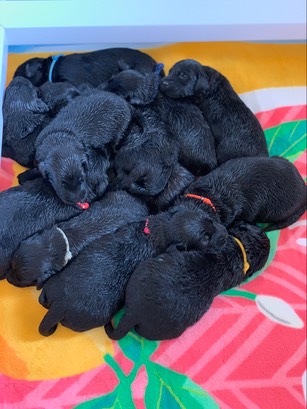 While we never plan to repeat breedings, Omar and Rosa thought their first litter was so nice, they should repeat! ; )  We welcome this baker's dozen of love and look forward to watching them grow!  Gina is very excited to have siblings!
Introducing…
Saudades' Morning's First Beam - "Pippen"
Saudades' Free and Brave - "Koda"
 Saudades' Home of the Brave - "Bravo"
Saudades' Endless Skyway - "Leland"
Saudades' More Perfect Union
Saudades' Robinette Unity - "Winston"
Saudades' Pursuit of Happiness - "Bentley"
Saudades' We The People - "Remington"
Saudades' We Go High - "Wynona"
Saudades' American Eagle - "Birdie"
Saudades' Liberty & Justice - "Olive"
Saudades' Twilight's Last Gleaming - "Jinx"
Saudades' Madame Vice President - "Piper"