CH Saudades' Escape To Neverland x CH Starworkers Time To Celebrate
Schmee x Party
Born May 13, 2014
6 girls, 4 boys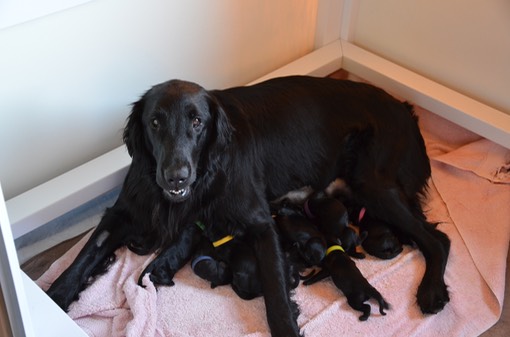 Introducing...
CH Saudades' Going Away Party for Shannara aka "Gisele" 
(formerly orange)
CH Saudades' Garden Party aka "Luna" (formerly gold)
Saudades' Rescue Party aka "Tajar" (formerly lime)
Saudades' Tea Party aka "Mila" (formerly pink)
Saudades' Beach Party aka "Milo" (formerly brown)
Saudades' Cocktail Party aka "Remington" (formerly green)
Saudades' Fashion Party aka "Ruby" (formerly purple)
Saudades' Search Party aka "Siri" (formerly red)
Saudades' Dinner Party aka "Luna" (formerly sky blue)
Saudades' Blues House Party aka "Duke" (formerly blue)
What a wonderful pairing this has turned out to be!  All pups are much loved members of their families and three are showing great promise in the show ring.  While we did not keep a puppy here at home from this litter, we do co-own two of the girls and maintain breeding rights to the pick boy.  
Little Luna (S. Garden Party) was the first to make her show debut at 8 months old and got Reserve both days to Falafel, defeating a much more mature bitch and winning Best Puppy along with a  Puppy Sporting Group 2!  She also was placed 2nd in the Sweepstakes class at the 2015 FCRSA National Specialty and earned her first major ( a 4 pointer) at one year of age and her second before 16 mos.  Her sister Gisele (S. Going Away Party for Shannara) in Minnesota is also major pointed towards her Championship.  
Very excited with the promise this litter is showing!