GCH Almanza Intermezzo
May 23, 2009 - January 5, 2021
Almanza Quite The Thing x Almanza Jigsaw Puzzle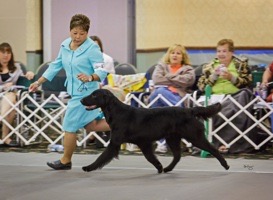 Maestro came home with me from my first trip to Sweden in September of 2009.  I fell in love with his dam, JWW-02, WW-08, VWW-11 Almanza Jigsaw Puzzle - Puzzel, and am so excited to have him here with us.  He has spent his first 18 months here in the US growing up, learning to retrieve and getting the hang of the show ring.   He finished his Championship on his 9th time in the ring with 3 majors!  His Grand Championship was earned with ease, as well, with very limited showing.   Maestro has sired 6 quality litters and has marked his puppies with size, substance, coat and his sweet, soft temperament.  He has Champion and Grand Champion puppies and grand-puppies from each litter.
He is retired from shows, except for the rare appearance in the veteran's ring, and from stud service, but has been frozen and stored for future use.
We lost Maestro just after the New Year when he was diagnosed with an aggressive thyroid carcinoma.  We miss our Marshmallow every single day.  He left a great legacy in his progeny and the love of a gentle giant for 11.5 years.  I hope to see him again in my whelping box one day.